Government-Grade Quality
Forensic-Proof
Continually Evolving Technology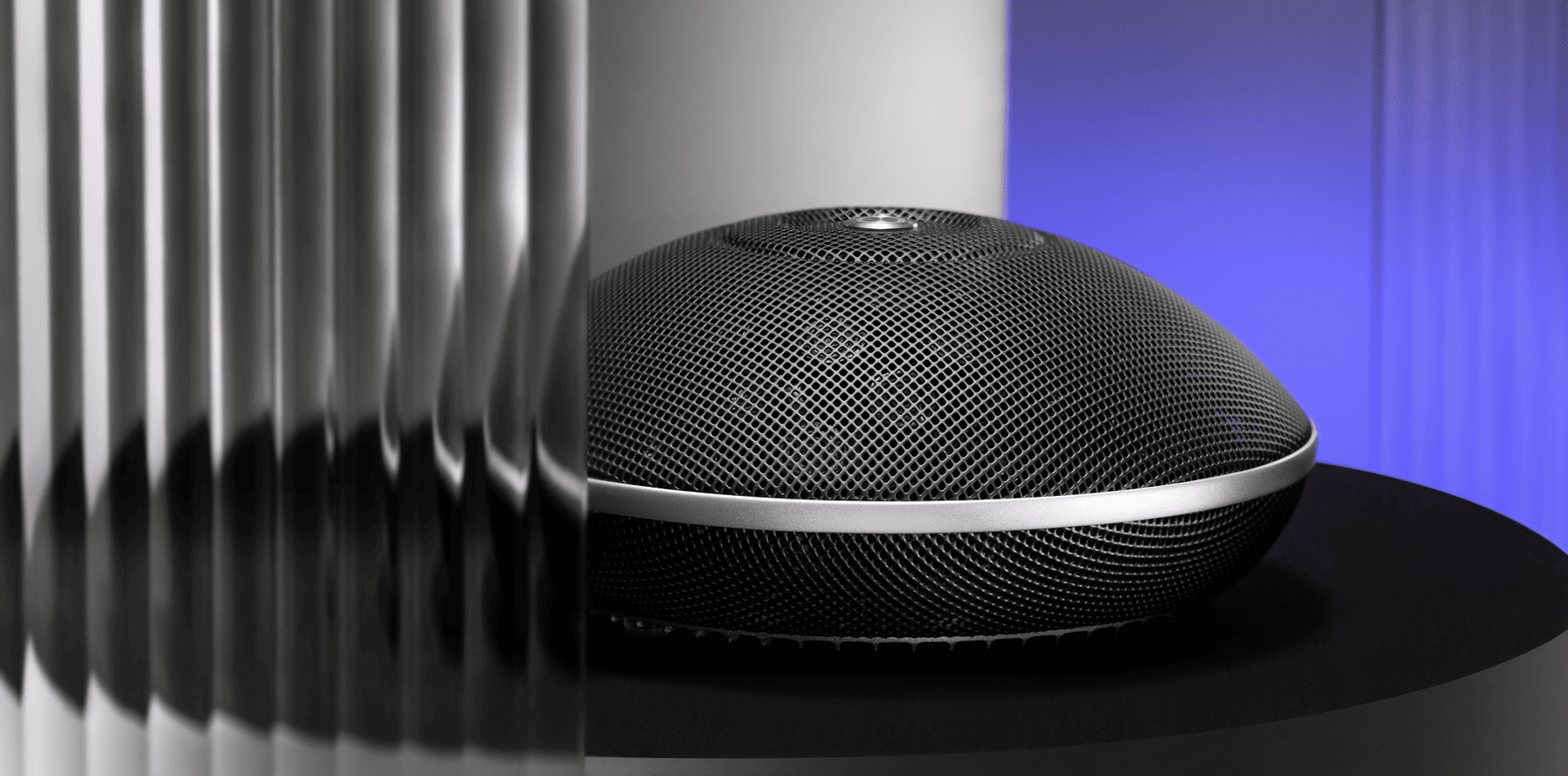 Leaked classified information can result in severe repercussions
The release of classified information can have catastrophic consequences. A single recording may jeopardize your reputation, compromise the safety of assets, and risk national security. 
With the rise of technology and the increasing sophistication of threats, it's crucial to take proactive measures to protect your sensitive information. 
Invest in the HARP® device to safeguard your face-to-face conversations.
Safeguard Classified Conversations Against Threats
Don't risk sensitive information leaking during private meetings
In an era where covert listening devices are increasingly common, securing confidential discussions is of utmost importance. To combat this threat, Santor® presents the HARP® - a powerful solution designed to safeguard sensitive conversations.
The HARP® effectively mitigates the risks posed by omnipresent microphones in today's smart devices - found in everything from phones to watches, computers to wireless headphones, and even disguised in ordinary objects such as pens, cufflinks, or eyeglasses.
With HARP®, rest assured in your ability to conduct high-stakes discussions and protect national security secrets with confidence, whether in the privacy of your office, a conference room, a private meeting area, or while in transit in a vehicle or plane. The peace of mind and protection offered by Santor®'s HARP® is unmatched, securing your communications like never before.
Create a personalized acoustic barrier in public spaces
Navigating public spaces can be fraught with threats to confidential information. Equip yourself with the HARP®, paired with the custom-made Santor® bag and external battery, for a comprehensive solution that safeguards your discussions no matter where you go.
This unique combination enables the creation of a personalized acoustic barrier between potential threats and you, effectively blocking unauthorized individuals from capturing your conversations. Especially suited for the work of bodyguards, the HARP® housed in its special bag can accompany you anywhere, ensuring sensitive information remains secure.
Enjoy the advanced protection features and accessories of HARP®, providing the peace of mind that comes with knowing your private discussions remain just that - private.
Necessary Protection is
3 Simple Steps Away
How to protect your conversations against unauthorized access and interception.
Book a 15-minute virtual demonstration
Discover how the HARP® can solve your privacy concerns from our product specialists.
Place your order and receive training
Receive free training to learn how simple it is to use your HARP® units to protect your conversations.
Unlock Voice
Privacy
Start using the HARP® to protect your conversations and get the privacy and true peace of mind you deserve.
The HARP® will protect you anywhere you have a classified conversation.
With the HARP® Speech Protector's robust features, you can confidently shield your conversations from eavesdropping, whether you're in the office, traveling, or navigating public spaces.
Travelling
The HARP® travels with you and can offer you speech protection wherever you go :
In a vehicle
In a hotel room
In airport lounges
On a plane
Meeting Spaces
Use the HARP® in any meeting space where you carry on classified conversations :
In a private office
In a conference room
In private meeting areas
In a Sensitive Compartmented Information Facility (SCIF)
Public Spaces
With the available external battery, the HARP® can be used wherever you have conversations.
At a restaurant
At a park 
At sidewalk cafes
In office lobbies
Video
Discover HARP®'s speech protector technology.
Are you protected at every threat level?
While you may have cybersecurity, physical security, and employee awareness in place, are you really fully protected at every level of your organization to reduce the risk of recordings and malicious eavesdropping?
Speech Protection
Involves the use of audio security systems to safeguard confidential conversations from being recorded or listened to without proper authorization.
Governments, military units, and large corporations understand the importance of protecting all aspects of their operations. Their well-rounded protection plan includes encryption, TSCM, access control, policies, and procedures, etc. With the rise of technology and the increasing sophistication of threats, it has become crucial to take proactive measures to protect their sensitive spoken conversations. With the HARP® Microphone Disruptor, you can add a crucial layer of protection to reduce the risk of a successful attack.
Upload your own voice and take control
With SANTOR Connect, our easy-to-use app, you will be able to upload your own voice frequencies to your HARP® devices. By doing so, you will create a personalized sound shield against eavesdropping and electronic audio surveillance that is forensic proof.
But that's just the beginning! With HARP® and SANTOR Connect, you'll discover a world of features designed to keep your conversations safe with the highest level of speech protection.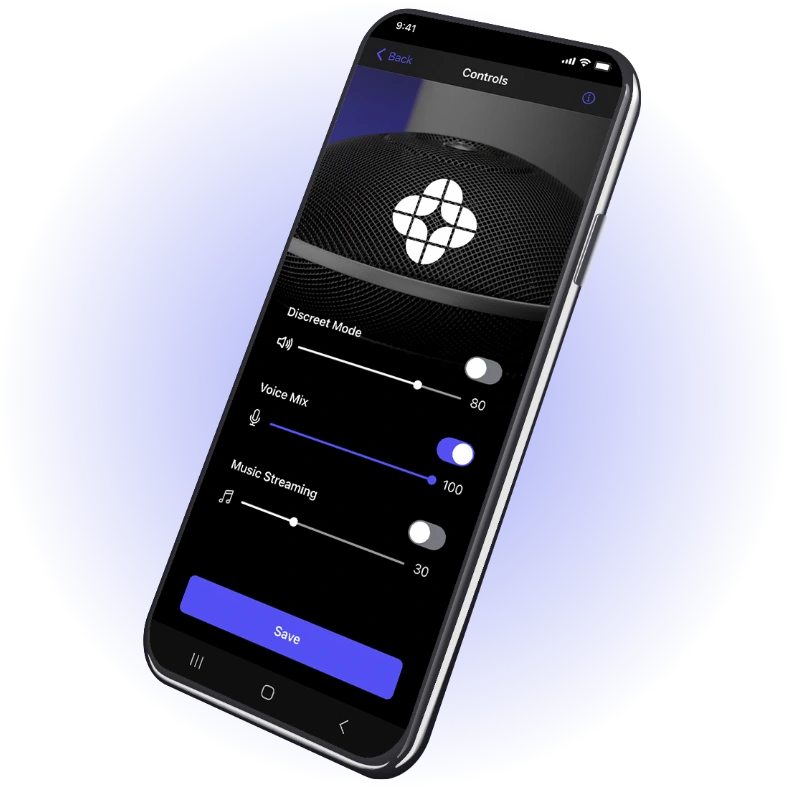 The Most Powerful & Comprehensive Speech Protection Available
The HARP® offers features that aren't found in any other speech protection device in the world!
Multiple Modes of Protection
Discreet Mode: Creates a unique hemispherical shield that interferes with most nearby microphone, preventing them from capturing your confidential discussions. 
Voice Mix Mode: Uses patented technology to create a background noise using your own voice frequencies. This makes overheard or recorded conversations unintelligible and resistant to forensic cleaning.
Flexible & Customizable
No other device offers the flexibility and customization that the HARP® does. Easily mount the HARP® from the ceiling, place it on a table, on the wall, or under a desk without the need to install additional wiring.
With SANTOR Connect, our mobile application, you can discreetly activate and manage multiple devices at one time.
Evolving Technology

Unlike any other device, the HARP® provides a unique advantage in terms of maintaining its relevance to secure your conversations. This is achieved through remote software updates that constantly keep the HARP® updated and ahead of any new device that may be used for malicious purposes such as recording or eavesdropping.
What Our Clients Have To Say
Listen to the testimonial of Ricardo Esper, CEO at Infinity Safe Brazil
As distributors based in Brazil, we highly recommend the HARP® to anyone seeking exceptional voice protection during meetings. We trust Santor® because of their great commitment to technology, quality, and relationships, making them a reliable partner for us and our clients. With HARP®, our clients can communicate with confidence, knowing that their conversations are secure and protected.
Discover the insights of Alejandro Leal, CEO of Grupo ITD
As a leading security solutions provider across Central America, we at Grupo ITD recommend the HARP® as an indispensable tool for safeguarding spoken communications. Our trust in Santor® comes from their dedication to technological innovation and quality. With the HARP®, our clients—including businesses, specialized forces and governments— gain added assurance that their dialogues are safe from unwanted recordings and eavesdropping.
IONChile Ltda.
Inteligencia de Comunicaciones, Chile
Our experience with HARP has been extremely positive. It can be used independently or with other solutions to create secure and eavesdropping-free zones, mitigating risks and providing strong recording protection.
What sets the HARP apart from traditional noise generators is its discreet and audible modes. Additionally, it is highly versatile, easy to transport, and comes with accessories that allow for improvisation. This makes it the ideal tool against strategic, industrial, financial, and political espionage.
Gabriella Daruix,
Infinity Safe, Sāo Paulo, Brazil
Our mission is to provide the best counterintelligence solutions for our customers in Brazil. Each client, whether from the public or private sector, faces different challenges. But we recommend everyone, for maximum protection, the use of the HARP.

[…] In addition, the most important element is the possibility of updating the firmware remotely, which allows us to always have the latest level of protection available, thus maximizing the return on investment of our customers.
Santor® App
Download the Santor® App to securely operate your HARP® from your mobile device.